By Hell Gate
In Bushwick last night, members of New York's Mizrahi Jewish community celebrated Mimouna—a North African Jewish festival held to mark the end of Passover—with live performances and baklava, in the backyard of 9 Bob Note, a new extension to the queer club 3 Dollar Bill.

I had been invited by my college friend, the organizer and party-starter Emily Lever, who I saw wearing a deep green-and-gold caftan. "At the beginning of Passover," fellow organizer Maya Edery said on stage, "Jews would sell their leavened products to their Muslim neighbors, and after eight days were over, their neighbors would sell them back, in a spirit of solidarity, celebration, and community." This spring's season of Abrahamic holidays has seen an intensifying of Israeli violence against Palestinians—which the organizers of Mimouna in Bushwick sought to counter by fundraising for Palestinian causes while celebrating the shared heritage of North African Jewish and Muslim communities.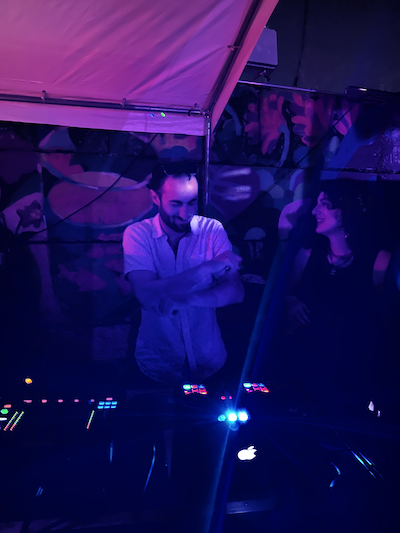 Light refreshment of unleavened m'semen, olives, grapes, and the like had been offered—along with the fully stocked bar at 9 Bob Note—but at 8:45, after a traditional song was recited from stage, guests picked eagerly at a bounty of leavened sweets like basbousa and moufleta with dates, and the festival began in earnest. Mimouna is also considered an auspicious time for matchmaking, so singles convened at the back of the outdoor venue to schmooze.
I found a couch and an outlet to charge my phone and spotted the Subway DJ's speaker-suitcase, and knew he was in the building. Sure enough, he was DJing the interstitial moments, as Grammy-nominated Moroccan musician Samir LanGus got the party started with a set of gnawa bangers, with singer and self-styled "diva-in-exile" Laura Elkeslassy to follow.
"Israel coopts Mizrahi culture to justify and brownwash apartheid," Edery said, soliciting donations for the Khalil Sakakini Center, a Palestinian arts and culture organization. The event had been organized in conjunction with Jewish Voice for Peace, IfNotNow, and Jews For Racial & Economic Justice. "Tonight we want to support our Palestinian friends and comrades."