January 2020: Beit Midrash

As part of our We Are Here process of study and learning, we gathered at the Harlem JCC to explore the meaning and power at the intersections of Judaism and our progressive political project: What is our personal relationship to organizing as Leftist Jews? What are we curious about, challenged by, and wanting to explore? How is our Jewishness impacted and inspired by our organizing, and vice versa, if at all? What are the Jewish offerings to this political moment, and to our movements, and vice versa?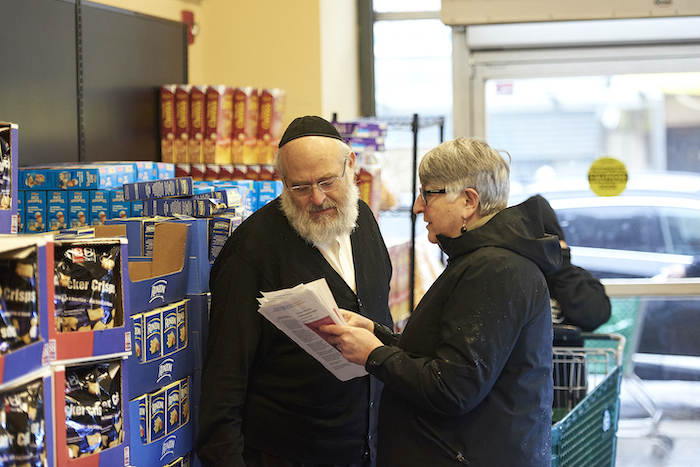 February 2020: Day Against Hate

On February 13, 2019, JFREJ led the eight other community organizations in the NYC Against Hate coalition in a citywide Day Against Hate — a response to hate violence on a scale that we've never attempted before. The NYC Against Hate team organized an incredible twenty-five Day Against Hate events all across New York City.
Pandemic rapid response

March – Ongoing: LMPG

JFREJ, Brooklyn Community Bail Fund, Never Again Action, New Sanctuary Coalition, and the New York Immigrant Freedom Fund joined forces to launch the Let My People Go campaign, to bail people out of jail and immigration detention, and demand that Governor Cuomo and Mayor de Blasio free jailed and detained New Yorkers. With the support of over 50 grassroots fundraisers, 2400 donors, and 20 synagogues and Jewish organizations, the Let My People Go campaign has raised over $250,000, helped free New Yorkers from jails and ICE detention across three states, and created two powerful videos to support the campaign.
March – Ongoing: Mutual Aid

When COVID struck, the New York Caring Majority engaged a massive effort to reach out to all of our vulnerable members, recruiting dozens of outreach volunteers, hosting weekly support calls, and deploying calls to close to 2,000 seniors and vulnerable members of the community. We joined with many other organizations and networks of individuals around the City to rapidly stand-up mutual aid networks and hotlines, which delivered medicine and meals, and helped to connect New Yorkers from every background to the services they needed.


March – Ongoing: Nobody is Disposable/You Are Essential To Me

"Nobody is disposable" was the cry from the vulnerable populations which were targeted by triage plans during this pandemic — the people who have been asked to sacrifice their lives for Wall Street, and to excuse incompetent emergency response systems that leave them marginalized or forgotten. JFREJ and the New York Caring Majority organized actions and vigils outside nursing homes across New York State as part of the #NobodyIsDisposable campaign

May 2020: Naming The Lost

"Naming The Lost" brought together survivors, community activists, artists and faith leaders for a 24-hour reading of names to honor the COVID-19 dead. People who've lost a loved one to the Coronavirus or are part of communities most impacted — together with some special guests — read as many names as possible and available of those who have died from the virus.
June 2020: A Green New Deal for Care
Naomi Klein and Ai-jen Poo joined the New York Caring Majority in releasing a video and platform: a Green New Deal for Care. The Green New Deal aims to build a safer, fairer society, and that means dismantling systemic racism and inequality. When domestic and agricultural workers were excluded from key parts of the original New Deal, it was a strategy to exclude Black people — in particular, the Black women who did and still do so much crucial care work. This time, we must do the opposite, and put care work, racial justice, and feminism at the center of a new economy. We can choose a new path forward. Through large-scale investment, we can transform home care jobs into high-quality, family-sustaining jobs that will strengthen our communities and improve New York's health and economic future.
June 2020: Repeal 50a & the Safer NY Act
Building on years of organizing across New York City and New York State, we celebrated a huge victory in Albany — the winning of three bills collectively known as the Safer NY Act. The three bills – the Police STAT Act, the repeal of section 50-a of the New York Civil Rights Law, and a bill codifying a Special Prosecutor for unarmed New Yorkers killed by the police – increase police transparency and create accountability around New Yorkers' most common, and most dangerous, encounters with police.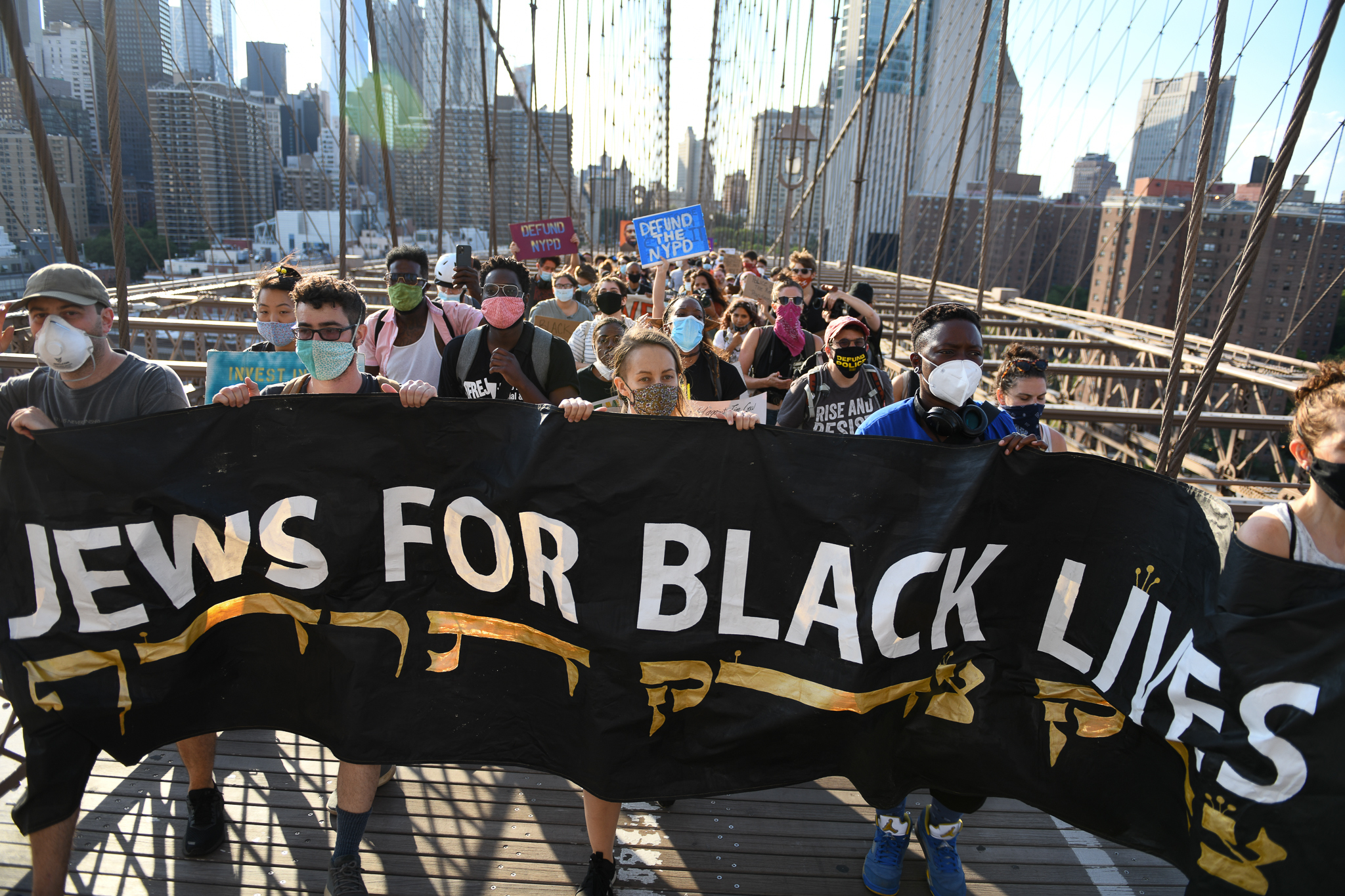 May 2020: NYC Budget Justice
Fueled by the May uprisings across the country and in New York City following the deaths of George Floyd, Breonna Taylor, Ahmaud Arbery, Tony McDade and others, we called for a cut of at least $1 billion dollars from the NYPD budget, returning the NYPD to 2014 levels of financing, and we called for investing that money into the programs and agencies that serve the New Yorkers most hard-hit by the COVID-19 crisis. JFREJ members made over three thousand calls to City Council members though our phone banking form alone. JFREJ members created vibrant, inspiring artwork that led thousands of people through the streets.
June 2020: Jamaal Bowman & other electoral victories
Jamaal Bowman will be heading to congress, in part because of Jews for Jamaal and their incredible work. These dedicated members of The Jewish Vote knocked on hundreds of doors, made thousands of calls, and stood up to vicious fearmongering attacks from the right in order to ensure Jamaal's historic win. Many of The Jewish Vote's other fantastic progressive endorsees won reelection, and our efforts contributed to the Working Families Party remaining on the ballot in New York — a blow to Governor Cuomo and a win for democracy.
July 2020: Fund Excluded Workers
In the past months, as millions have lost their jobs, undocumented workers and other workers in the cash economy have been excluded from state unemployment and stimulus payments. The Fund Excluded Workers campaign is calling on the state legislature to convene and pass a bill that would create $5.5 billion by taxing billionaires, and establish a $3.5 billion emergency survival income fund for excluded workers across the state of New York. A massive team effort coordinated by JFREJ-ers provided safety/marshalling and community care for #FundExcludedWorkers activists.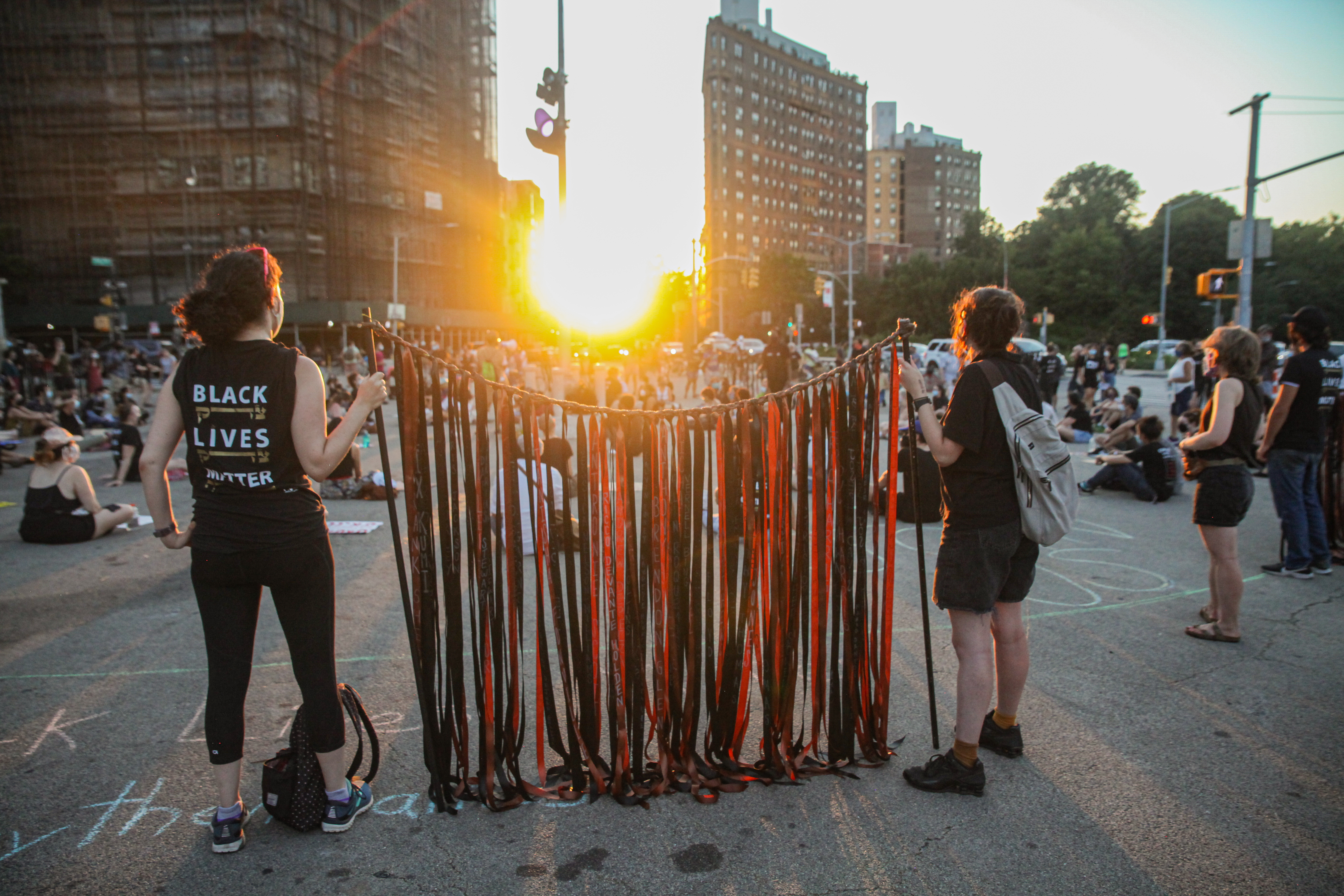 July 2020: 40 Days of Teshuvah
For 40 days JFREJ members came together at sunset, both communally at Grand Army Plaza and individually in our backyards and rooftops, to blow the shofar and mourn the degradation and destruction of Black communities, confessing the ways in which we participate and perpetuate racism. These 40 days culminated with Tisha B'av, and we commemorated this year's Tisha B'av to specifically mourn the destruction of Black communities in these 400 years of ongoing oppression.
August 2020: Slowdown & We Are Here
This year, JFREJ completed its course of internal review and study, called We Are Here, which gathered, compiled and synthesized concerns from members about how the organization should be structured, and internalized learnings about the emerging political landscape and our role in it. This fall, we began a "slowdown" period with reduced programming to allow our staff, board and members to develop new strategies and structures based on the We Are Here learnings, and create more clarity, transparency, and consistency for JFREJ members.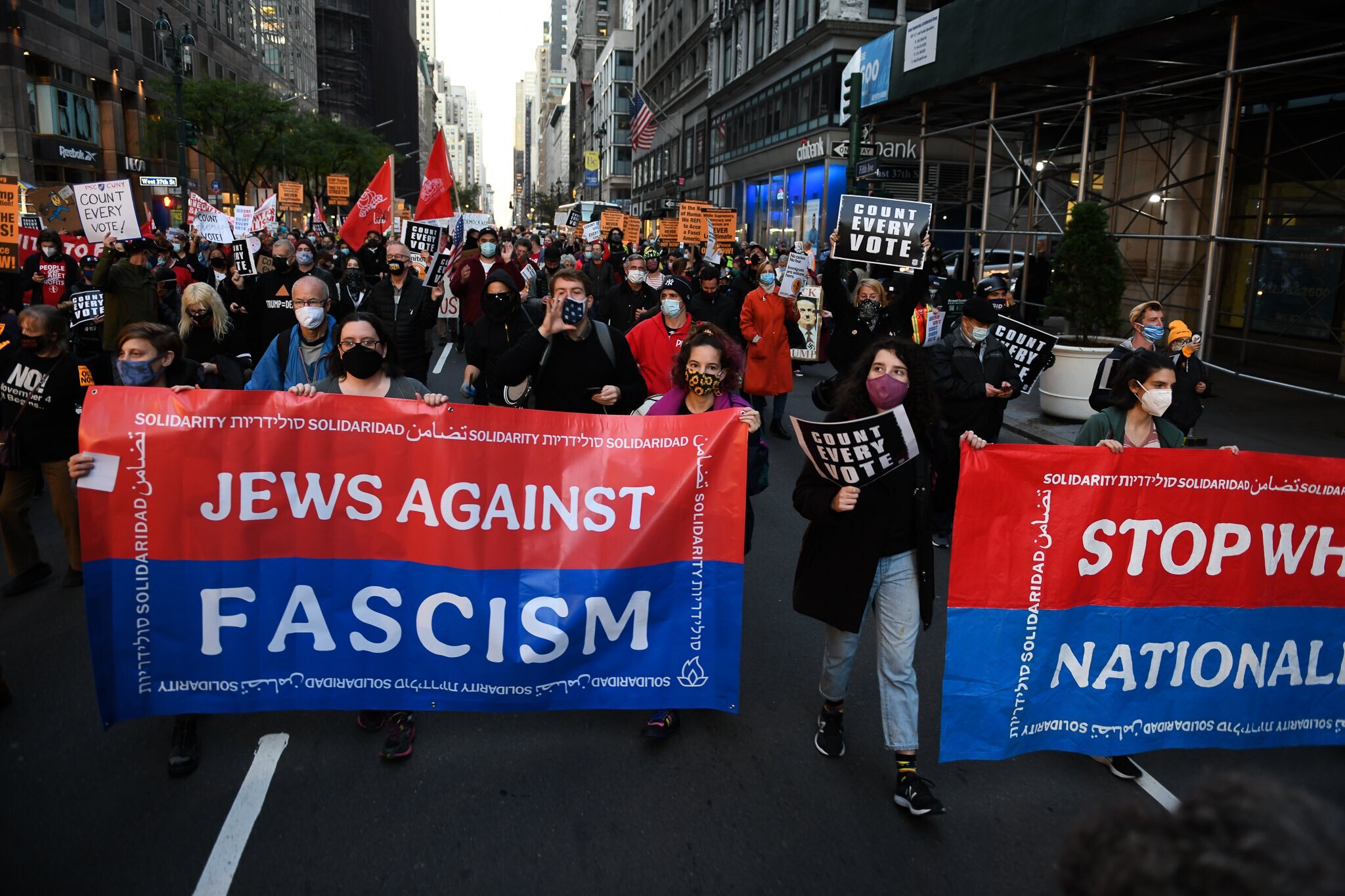 October & November 2020: Election Defenders & Jews Against Fascism
With the president and far-right groups making unprecedented and explicit threats to disrupt the November election, JFREJers signed up to become Election Defenders. They took part in trainings and other important activities vital to ensuring our democracy works, and we count every vote. In addition, in the week before the election, Jews Against Fascism trained more than 1,000 people in nonviolent direct action techniques.