Six Jewish activists were arrested in New York City on Thursday during a Passover protest meant to call attention to policing practices that they believe target immigrants and communities of color.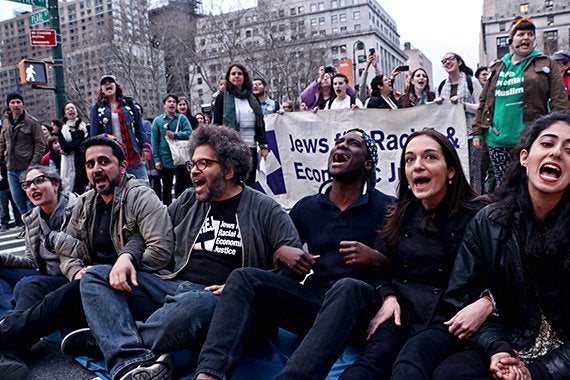 (Photo: KYLE OLEARY. Six protestors from the JFREJ group (seated) were arrested Thursday after participating in a rally.)
The protestors were part of a Passover "Seder in the Streets" rally attended by hundreds of Jewish New Yorkers, along with Muslim, South Asian, and other community leaders. The activists called on New York City's Mayor Bill de Blasio to end the city's "broken windows" approach towards policing and "give New Yorkers a real Sanctuary City," according to a press release.
JFREJ member Yehudah Webster, who was arrested on Thursday, said in a statement, "Passover is not only a time to remember our journey as Jews from captivity to freedom, but also a time be reminded of our obligation to make sure we all get free, we all find sanctuary."
After a press conference on the steps of City Hall, the protestors participated in a seder, a ritual meal that retells the story of the ancient Israelites' journey from slavery to freedom.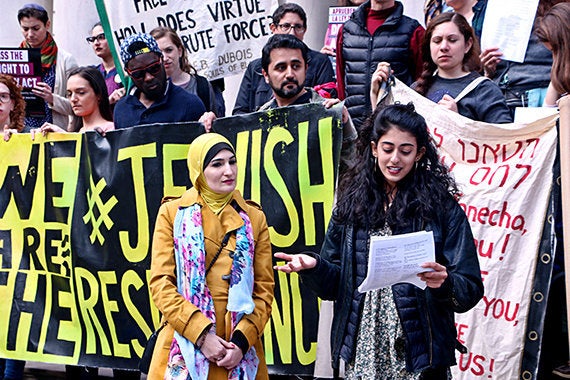 The Huffington Post reached out to the mayor's office for comment, but has not heard back.
JFREJ member Dania Rajendra, one of the protestors arrested on Thursday, said that her family's history inspired her activism for undocumented immigrants today.
"My dad was an immigrant ... New York is the place where my past and immediate ancestors ceased to wander, and made a home ― an option that should be available to all all New Yorkers," Rajendra said in a statement. "Right now too many New Yorkers are neither free nor safe in their own neighborhoods, workplaces, and places of worship and therefore my own Jewish liberation is incomplete."