Last night, hundreds of JFREJ members and allies marched through the West Village to show our unwavering support for the Black Lives Matter movement and to demand that the NYC Council pass the Right To Know Act.
The action, the largest ever Jewish mobilization in support of Black Lives Matter, was a multiracial gathering led by Jews of Color, as well as rabbis and other Jewish community leaders. We shared our grief and outrage about police violence and the ongoing scourge of racism through song, prayer, and ritual. The action culminated in a civil disobedience in which seven Jews of Color were arrested.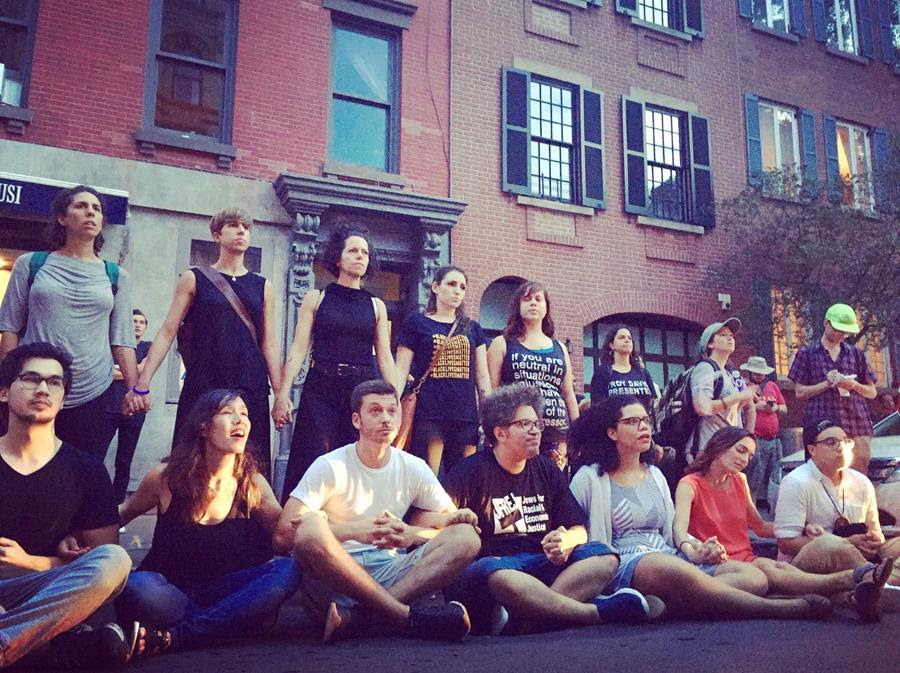 "We are here today because Black Lives Matter. Within our Jewish community and beyond, Black Lives Matter, and we will not sit silent — as Jews and as human beings, we cannot be complicit with police violence and systemic racism... As we enter the weeks leading to Tisha b'Av, this is a sacred time for Jews to take a stand against atrocities happening right now, as we also remember those that have happened to us in the past. We say no more!"
— JFREJ JOC Caucus member Shoshana Brown
This Saturday, JFREJ, in conjunction with Kolot Chayeinu: Voices of Our Lives, will hold a Tisha b'Av service at Grand Army Plaza in Brooklyn. On Tisha b'Av, we mourn acts of destruction and systemic violence against the Jewish people. Recently and throughout our history we have seen many acts of destruction and systematic violence against Black people and Black communities.
We cannot separate out the destruction of life in the targeting of Jewish communities and communal institutions from the destruction of life in the targeting of Black communities and communal institutions. This Tisha b'Av we join our mourning together: Eicha - how can this be. How can this be what is still happening in our world today?
Lament: A Tisha b'Av Service About Racist Violence and Destruction
Saturday, August 13th
8:45 PM
Grand Army Plaza
The only way we can ensure a future in which Black Lives Matter and the police are held accountable is if Jews, and all Americans, actively participate in the campaigns for racial justice and police accountability being waged all across the country by local organizations, especially those led by people of color.
We can win, but only by creating movements too powerful to be ignored. In this struggle there is no neutral ground — if the Jewish community isn't part of the solution, then it is part of the problem.
We need you - to grow the movement for police accountability, to show up for people of color in our own community and beyond, and to enact Jewish values and bring them to the forefront of movements for racial and economic justice.
Join Us!